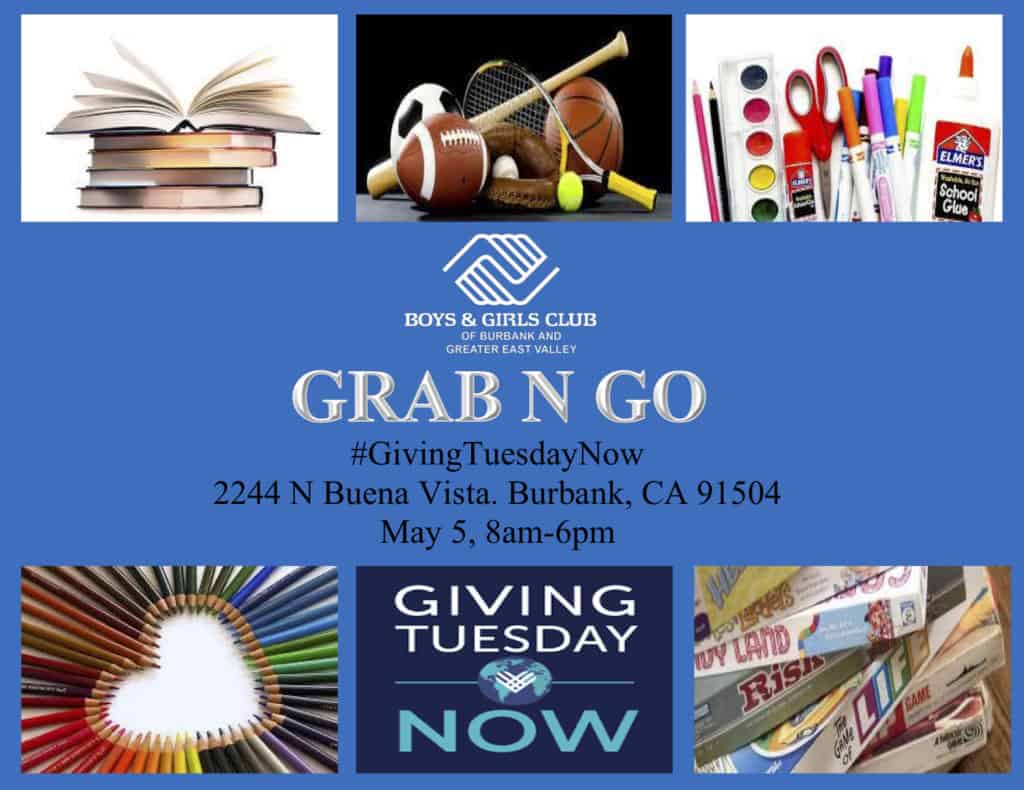 #GivingTuesdayNow
*************************************
On May 5, Giving Tuesday Now, the global day of giving created to raise emergency funds in response to the pandemic, you can help keep our doors open and great futures possible.
And on this day, we will be giving to the youth and families of the community too, with the distribution of materials to help parents manage the continuing challenge of having their children at home. On Giving Tuesday Now, we are offering parents the opportunity to come and select something to take home. We have sports equipment, enrichment activity toys, games and prizes. With a simple drive-by, grab and go approach, we are hoping that our gift to the community will help ease some of the difficulties facing so many families.
So as we participate in Giving Tuesday Now by giving directly to our families, we are asking you to help us continue to do the work we do, providing a safe and enriching environment for our kids. Please consider donating as you are able, and know that we are all in this together.
DONATION TERMS AND CONDITIONS
I certify that I am the authorized user of this credit card and I authorize my bank or financial institution to transfer my contribution, as set forth in this online transaction, from the account provided herein to The Boys & Girls Club of Burbank and Greater East Valley, in accordance with the terms and conditions stated below. This authorization to debit my bank account or credit card shall be the same as if I had personally signed a check or credit card authorization to The Boys & Girls Club of Burbank and Greater East Valley. To cancel service, please call The Boys & Girls Club of Burbank and Greater East Valley at 1-818-842-9333 extension 111.
Credit Card information submitted to us is private and secure. We use a variety of security measures to protect your data. We maintain physical, electronic and procedural safeguards to help prevent unauthorized access to and improper use of personally identifiable information. No website or electronic data can ever be completely secure, but we are always working to maintain up-to-date and appropriate security mechanisms.
On behalf of everyone at the Boys & Girls Club, we thank you for your kind donation. With your help, we will continue to enable all young people, especially those who need us most, to reach their full potential as productive, caring, responsible citizens.